Few weeks ago, mom had a few co-workers visiting from Seattle. They decided to go to The Great Wall of China and invited us. This is something I really wanted to see, especially since I had read that you can see this wall from space.
One in the group, hired a car and driver and picked us three up. I think you can also take a bus from the city to the wall. I liked the car, it was a van. Lots of room.  Think we drove about an hour, maybe longer. Heading mostly north from Beijing. The countryside, outside the city is very dry, gray, dusty and kinda sad looking. Some small stores and farms along the way. Looks like it hasn't rained in a long, long time.
Mom said the wall is in sections, all over northern china. It is not one continuous wall around Beijing.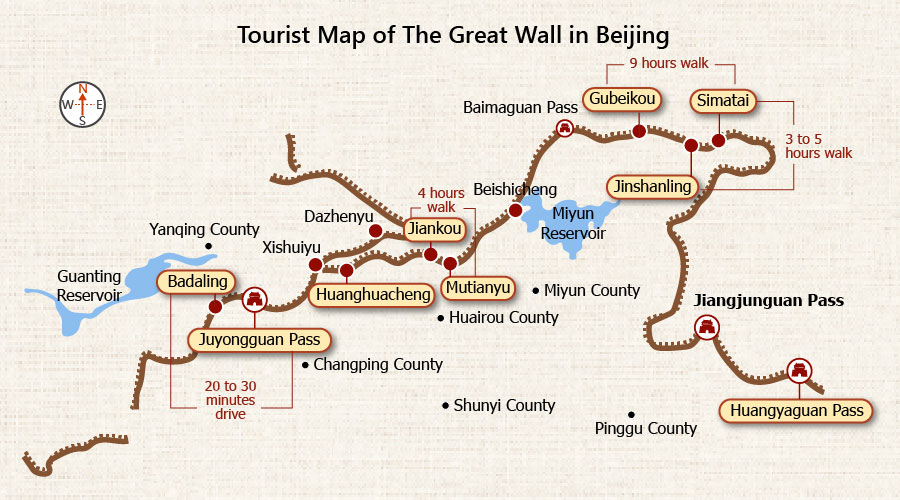 The section we visited was extra exciting because not only could you see the wall, walk on the wall but you could ride a gondola up to the wall and then, later, ride a cart (called slideway) down from the wall. This is the Mutianyu section of the wall.
Few facts my dad just found:(about this section not the entire wall)
It has a total length of 3.4 miles (5,400 meters).
It was first built in Northern Qi Dynasty (550-557). In the Ming Dynasty (1368-1644), Tan Lun and Qi Jiguang, two famous patriotic generals, rebuilt it in order to strengthen its defensive potential when they guarded the strategic pass. It served as the northern protective screen, guarding the capital and imperial mausoleums for generations.
It is mainly made of slabs of granite. It measures 23 feet (7 meters) to 26 feet (8 meters) in height, and 4 yards (4 meters) to 5 yards (5 meters) in width.
Here is a good picture of 'the wall' or all of the walls:
We were very lucky to have such a clear, sunny day in March. Although it was very cold at times. I was impressed not only because the wall is so tall (about 20 feet tall) but it goes on and on, forever.
This is a good picture because it shows how steep walking on the wall can be. I think both me and my dad got tired walking up. Then I started to laugh at him. When he asked "why?", I reminded him he paid money to run a marathon on this thing. He did not laugh.
We spend about on hour up on the wall. Then decided to take the fast way down. You can walk down the hill or you take the faster route.
Below, my mom and me riding the slideway down from the wall to the bottom of the hill. This was fun but I wanted to go faster.